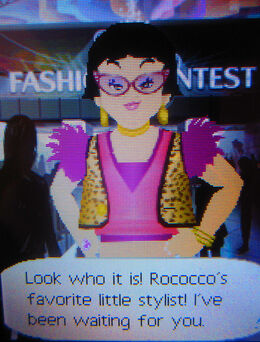 Rococco  is the "Grand Phoenix of Fashion." She is the host of all fashion contests and visits your shop usually complaining or wishing you luck on a contest.
In the Japanese version of the game, Rococco's name is Pario and can be seen sporting bigger sunglasses, is a male and considerably more facial hair.
She sometimes speaks a little French in her sentences. When she says "ma cherie," take note she is actually saying "my dear."
After putting together a very expensive Masquerade/Alvarado mannequin together on display, reject offers from all of your regular customers and you may find that a character called 'Roccoca' visits your store with a matching budget. 'Roccoca' is a young woman who (looks like) and tries to emulate Roccoco.
Ad blocker interference detected!
Wikia is a free-to-use site that makes money from advertising. We have a modified experience for viewers using ad blockers

Wikia is not accessible if you've made further modifications. Remove the custom ad blocker rule(s) and the page will load as expected.