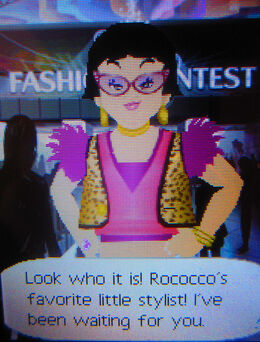 Rococco  is the "Grand Phoenix of Fashion." She is the host of all fashion contests and visits your shop usually complaining or wishing you luck on a contest.
In the Japanese version of the game, Rococco's name is Pario and can be seen sporting bigger sunglasses, is a male and considerably more facial hair.
She sometimes speaks a little French in her sentences. When she says "ma cherie," take note she is actually saying "my dear."
After putting together a very expensive Masquerade/Alvarado mannequin together on display, reject offers from all of your regular customers and you may find that a character called 'Roccoca' visits your store with a matching budget. 'Roccoca' is a young woman who (looks like) and tries to emulate Roccoco.
Roccoco has a son in the next game, Style Savvy: Trendsetters. This is only applicable towards the USA and Europe version. In the Japanese version, it is another version of Pario.