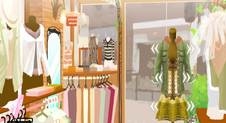 Your shop is where you work. Renee is also working here and helping you with the shop as well.
There are 22 interior designs and 9 music pieces to play in your boutique.
There are many options when you tap "menu":
1. Shop display - Place and put up mannequins on display. Customers will buy outfits if they like it.
2. Shop info - Rename your shop, see your shop's rank, and see the takings you earned from last month to this month.
3. My picks - Put the clothes in your picks so it's easier enough to find.
4. Stockroom - Remove or see the stock you have.
5. Save (can be purchased from Dominic's Mansion) - Save the progress of your game.
6. Music/Interior - Change either the interior or music, or maybe both!
7. Mailouts and leaflets (Style Boutique) (can be purchased from Dominic's Mansion) - Send ads to different customers all over town. Leaflets (or pamphlets) can be distributed through DS Wireless Play.
8. Hold sale (can be purchased from Dominic's Mansion) - Hold either 10% sale, 30% sale, or 50% sale.
9. Guest Designer (only available if you accept a brand rep's offer to design with them) - Collaborate with a brand with a certain item.
At the bottom of the customer screen, you can check your calendar and read a magazine.
Ad blocker interference detected!
Wikia is a free-to-use site that makes money from advertising. We have a modified experience for viewers using ad blockers

Wikia is not accessible if you've made further modifications. Remove the custom ad blocker rule(s) and the page will load as expected.