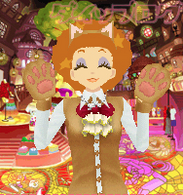 Masquerade is the most "special" brand in the game. Normally, Masquerade items can only be obtained by winning contests, however the Masquerade store will open at the Buyer's Center if Masquerade has the "Exclusive Item" of the day, but know that this happens very rarely. 
Masquerade items are among the most expensive and rare items in the game.
Customers who like the brand Dazies may also like Masquerarde with a notable example of Didi, the hairstylist. 
To find out what days you can buy the Exclusive Masquerade Items, see the article on Exclusive Items. Most Masquerade items are part of a set that when put together creates a cool looking costume. Masquerade items are given as contest prizes changes randomly each week, so check every contest reward every week if you are trying to collect them all. Known Masquerade sets include:
Classic Doll (Alice for Style Boutique)
Maid (Eunice wears this outfit)
Sweet Girl (Magic Girl for Style Boutique)
Fairy Princess (Dominic's birthday gift)
If you wear a complete set of an outfit to your store/or dress a mannequin in the outfit set, sometimes a customer will come with an unusually higher budget that usual and will ask for the outfit.
The Contest Crown is also a Masquerade item, but not part of a set. (Note : The contest crown is not something that could be sold and is the most expensive item in the game.)
The brand rep for Masquerade is called Cassie.
In the Japanese game, Masquerade is known as "Ranunculus"
Masquerade Items
Edit
Here is a list of all of the Masquerade items, the contests they can be obtained in, whether they can be purchased from the Buyer's center and the dates they offered as contest prizes.
COWGIRL (Beginner contest)
| Item | Available in stores? | Dates it can be won in contests |
| --- | --- | --- |
| Bandanna | No | 2nd week of every month |
| Dress shirt | 24/09 | 1st week of every month |
| Hat | 30/11 | 3rd week of every month |
| Miniskirt | 02/10 | 5th week of every month |
| Vest | No | 4th week of every month |
MAID (Silver contest)
| Item | Available in stores? | Dates it can be won in contests |
| --- | --- | --- |
| Blouse | 27/02 | 4th week of every month |
| Headband | No | 5th week of every month |
| Skirt | No | 3rd week of every month |
| Top | 11/09 | 1st week of every month |
CAT (Bronze contest)
| Item | Available in stores? | Dates it can be won in contests |
| --- | --- | --- |
| Cat ear headband | No | 3rd week of every month |
| Paw mittens | 10/11 | 1st week of every month |
| Pannier/Tutu | No | 4th week of every month |
| Boots | 04/06 | 5th week of every month |
| Tail-hem shirt | 19/10 | 2nd week of every month |
ROSE PRINCESS (Gold contest)
| Item | Available in stores? | Dates it can be won in contests |
| --- | --- | --- |
| Shoes | 15/12 | 1st week of every month |
| Skirt | No | 2nd week of every month |
| Top | 18/11 | 4th week of every month |
| Tiara | No | 3rd and 5th weeks of every month |
CLASSIC DOLL/ALICE (Platinum contest)
| Item | Available in stores? | Dates it can be won in contests |
| --- | --- | --- |
| Blouse | 05/09 | 3rd week of every month |
| Bow | 24/07 | 1st week of every month |
| Pannier/Hoop skirt | No | 4th week of every month |
| Top | No | 2nd week of every month |
MAGIC GIRL/SWEET GIRL (International contest)
| Item | Available in stores? | Dates it can be won in contests |
| --- | --- | --- |
| Gloves | 24/12 | 2nd week of March, 5th week of May, 3rd week of July, 3rd week of November |
| Leg-warmers | No | 1st week of March, 2nd week of July |
| Micro mini | No | 3rd week of March, 4th week of May, 5th week of July, 1st week of October, 4th week of November, 4th week of December |
| Boots | 01/02 | 3rd week of October, 3rd week of December |
| Shorts | 25/12 | 5th week of January, 4th week of March, 1st week of July |
| Top | No | 4th week of January, 5th week of March, 3rd week of May, 4th week of July, 2nd week of October, 5th wek of November, 5th week of December |
SAILOR GIRL (International contest)
| Item | Available in stores? | Dates it can be won in contests |
| --- | --- | --- |
| Kerchief shirt | No | 1st week of February, 2nd week of May, 4th week of June, 1st week of September, 5th week of October, 2nd week of December |
| Miniskirt | 01/04 | 2nd week of February, 1st week of May, 5th week of June, 2nd week of September, 4th week of October, 1st week of December |
NINJA GIRL (International contest)
Item 
Available in stores?
Dates it can be won in contests
Micro-mini skirt
27/04

5th week of April, 2nd week of June, 3rd week of August, 4th week of September,

1st week of November

Neck cloth
No
3rd week of April, 4th week of August
Top with obi belt
No
4th week of April, 1st week of August, 2nd week of November
Over-the-knee socks
16/04
3rd week of February, 2nd week of April, 3rd week of June, 5th eek of August
Silk mesh shirt
No
1st week of January, 5th week of February, 1st week of June, 3rd week of September
Studded gloves
16/06
3rd week of January, 1st week of April, 2nd week of August, 5th week of September
FAIRY PRINCESS (Dominic's birthday gift)
Item
Gloves
Diamond necklace
Tiara
Glass high heels
Top
Skirt
*All of the items in the Fairy Princess set cannot be obtained via the Buyer's Center or through contests and can only be obtained through the user's birthday. Each item comes in a frequency of x5 in this set.*