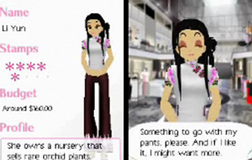 Karamomo sells Asian-influenced fashions, including Chinese influenced items such a Mandarin-style jackets and miniature
Cheongsam
(Qi Pao). The best boutique backround for Karamomo is No.8.
Unfortunately there are no Kimono style fashions from Karamomo, but some of the fabrics are Japanese influenced, for instance the items with Koi or Cherry Blossoms or on them.
Mari is the Brand Rep of Karamomo. In Style Boutique, she is called Yuki.