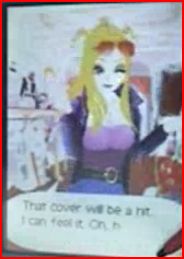 Felicity is the author of a happening fashion magazine called Nuances.
You can expect a visit from her if you wow the crowd at any fashion show. She will usually come and give you an interview after you win any contest. You can choose to decline or accept this offer. You can only have one interview per month.
If you lose a contest she will often try cheer you up and say that you deserved to win.
She sometimes refers to the player as 'sweet tea'.
She has an unusual liking to nail varnish and it is shown that she is friends with Libby. At one point, Libby comes into your shop and tells you she gave Felicity a peanut candy, and that Felicity was allergic to it.
Felicity seeks an interview with Dominic for a feature on 'Most Eligible Bachelors' in Nuances magazine. Dominic later comes to the boutique to say that he isn't interested in featuring himself as a bachelor.
It is also said Felicity grew up on a peanut farm and had a pet sheep.
In Style Savvy Trendsetters there is an unseen stylist who shares the same name as her. She is your competition in the beginner contest, although it is unknown whether it is the original Felicity or not.