In the Buyer's Center, you can buy new stock for your shop. You can also buy the Exclusive Items of the day.
On Sundays, you can buy from any Brand shops you like and they will be delivered to your store on Monday. Sunday is also known as the Preview Event where more clothes are made available for purchase and where the clothes are often for the next season (e.g if it was Winter you'd be shown the Spring Collections)
On other days, different shops will be open depending on factors such as the time of day. You can look in your Calendar at your Apartment to find out which shops will definitely be exhibiting.
The Buyer's Center is called the Exhibition Hall in Style Boutique.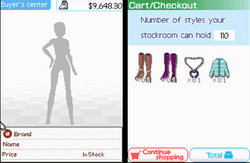 Ad blocker interference detected!
Wikia is a free-to-use site that makes money from advertising. We have a modified experience for viewers using ad blockers

Wikia is not accessible if you've made further modifications. Remove the custom ad blocker rule(s) and the page will load as expected.