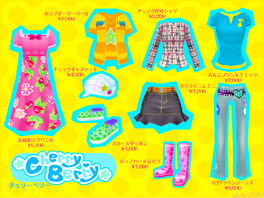 April Bonbon sells colorful, cute clothes that often resemble the Decora type fashions sometimes seen in FRUiTS magazine. Customers who prefer April Bonbon almost always like the brand Dazies as well. Boutique Backround No. 15 and 5 are great for April Bonbon (Bonbon in French means sweets).
The description in the Buyer's Center/Exhibition Hall is:
Beeaming smiles, happy logos and poppy pastel colours
Use April Bonbon in the following contest concepts
In the Japanese version of Style Savvy, April Bonbon is called "Cherry Berry".
Ad blocker interference detected!
Wikia is a free-to-use site that makes money from advertising. We have a modified experience for viewers using ad blockers

Wikia is not accessible if you've made further modifications. Remove the custom ad blocker rule(s) and the page will load as expected.