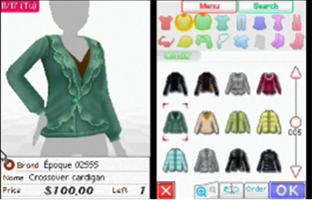 This brand is delicate and refined, just like the brand
Sonata
except it shows lots of laces and other things. Items from Epoque use lots of textures and detail. When customers say "vintage charm"/"girly" they mean Epoque.
The description in the Buyer's Center/Exhibition Hall is:
Vintage-inspired designs adorned with lace and frills
In the Japanese version of the game, it is instead called "Nostalgic".
The brand rep for Epoque is Erin.